Die Vryburger
November 27, 20171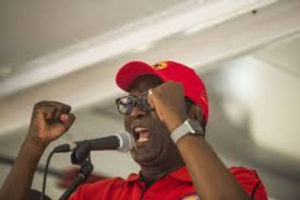 Zwelinzima Vavi – Image – Die Vryburger
Zwelinzima Vavi, who was elected as Cosatu's CEO and when his trade union, Saftu, was established, threatened to get farmers out one by one.
In particular, Vavi wants farm workers to join his trade union, and sour the farmers' lives.
Without indicating a single incident, he claims farm workers are exploited by farmers and illegally detained from farms. He argues that farmers still dream of apartheid and colonialism, and let their workers live in pig cages.
Agricultural experts rejected Vavi's statements with contempt. They point out that relationships between farmers and farm workers are, on the contrary, excellent since both depend on each other. Farmers never fought after colonialism, because they pursued freedom, free from the oppression of colonialism.
"There are currently so many laws for the benefit of the worker that if an employer acted incorrectly, it would probably be reported and the farmer prosecuted," said an agricultural leader to The Vryburger."
Read the original article in Afrikaans on Die Vryburger
South Africa Today – South Africa News